Art-O-Mat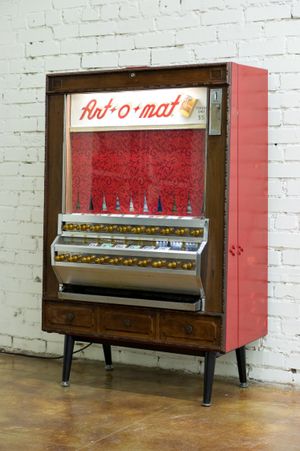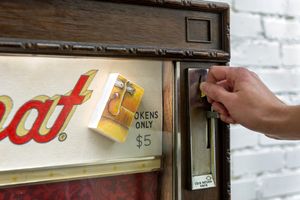 The HRAC welcomes the Hammond community to get a quick art fix to brighten their days with the Art-O-Mat!
The Art-O-Mat is a restored vintage cigarette machine that has been refurbished to dispense artworks made by artists from across the country. This machine offers patrons handheld artworks such as tiny art prints, handcrafted jewelry, miniature sculptures, small mobiles, or handcrafted soap. The art ranges from fine to functional. It's never been easier to become an art collector.
The machine -- one of over 100 across the country -- is located at the front of the HRAC and is part of the HRAC's mission in supporting original artworks and making art more accessible in Hammond. 
Sponsored by The Red, White & Brew and Boutique de Fumee, the Art-O-Mat makes supporting the Arts Center eclectic, fun and unexpected while being as easy as buying a bottle of soda. People love the affordable, original art from the Art-O-Mat, and now you can enjoy it as well. Each Art-O-Mat token can be purchased for $5, just ask a HRAC staff member for assistance or recommendations.
HRAC is encouraging local artists to stock their artworks in Art-O-Mat machines across the country. Stop by during business hours and chat with us about how you can become an Art-O-Mat artist. Part of the proceeds for the Art-O-Mat goes towards supporting HRAC's outreach programming.